Yoga Teacher Training 200h/300h
Bab Zouina works with various qualified teachers to deliver Teacher Training courses, usually following the Yoga Alliance framework. These certified 200-hour or 300-hour courses allow you to become a yoga teacher. They are given either in one block or in several modules.
These courses offer a real personal and professional enrichment in the world of yoga, to better assimilate the fundamentals. The programme covers the main areas of yoga. It aims to teach students to become a yoga teacher and to teach safely, as well as to respect the authenticity of yoga. This yoga teacher training aims to spread, along with the teaching, a new relationship to oneself and to life through knowledge, learning and experience.
The training programme offers an in-depth knowledge of yoga: technique, training and practice of asanas, pranayama and meditation; teaching methodology; anatomy and physiology; ethics; yogic philosophy as well as basic notions of Ayurveda.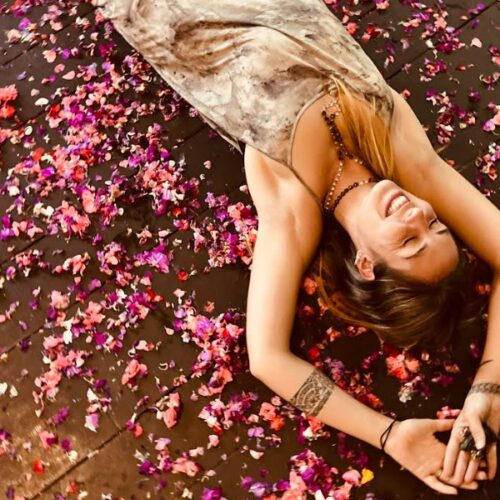 Yogini since 2008, she studied yoga in great schools such as the Sivananda Ashrams in India at the age of 20 where she studied yoga philosophy in depth and with great teachers such as Shiva Rea, Meghan Currie, Simon Park, Caroline Beliard and Sarah Powers.
After several years of teaching, she decided to set up certified and internationally recognized Yoga Alliance teacher trainings to train future yoga teachers. Since 2019, she has already trained more than a hundred teachers in France, and is passionate about this human adventure.
These teachings are pure and authentic, she embodies her practice and connects with the energy of the class to teach powerful Flows as if she were reading you. Committed and grounded in her work, she shares her knowledge and revelations around the practice of yoga with heart and generosity to embody its principles in a modern life.
Her influences come from her passion for nature and music… Her practice reveals her artistic paste…
"When I teach, I dive into the depths of the energy vibrations, as if I were reading the rhythm of a music, and I create from this very special place, the practice that will fit my students in the moment…".
Her career has required her to fully embody every second of her life, to constantly perceive the highest truth, the deepest narrative, the most integral way in which she could be of service to the world and evolve on its path…
It is today with great love that she accompanies you on yours…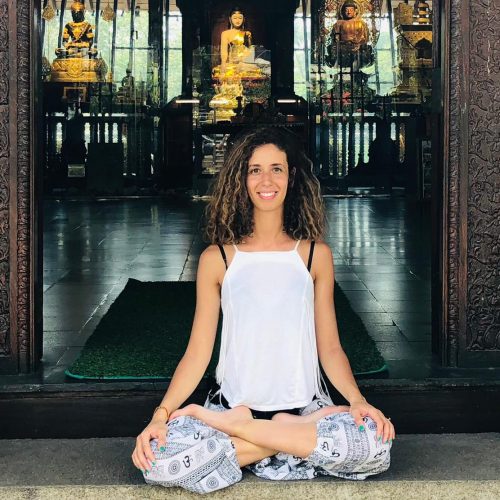 I am a physical therapist and yoga teacher for over ten years, certified Yoga Alliance, therapist and lifestyle consultant according to Ayurveda. Founder of kinesun (physiotherapy and wellness company at home and in companies), Founder of Yoga & Therapy Studio in Casablanca.
I accompany many students on a daily basis, through my individual classes, group classes, workshops and retreats. I attach great importance to the preservation of the body's integrity and the prevention of injuries. My knowledge of anatomy allows me to adjust each posture to the specificities of each person's body, to his or her current possibilities but also to his or her objectives.
My practice has as its main intentions benevolence, gratitude, compassion and self-love, combining rigor and elegance with gaiety and letting go. Perpetually inviting students to connect their bodies and minds, seeking and respecting their limits.
I am convinced that yoga is a whole, a development of oneself in all areas of life, a beautiful way to realize oneself.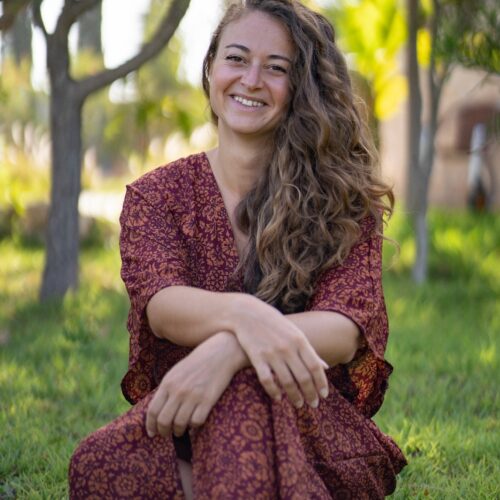 Trained between India and Europe, Manon taught Hatha Vinyasa yoga for several years in Paris before creating the AYU school and offering specialized training for yoga teachers.
Strengthened by her learnings in alignment and anatomy thanks to the trainings she attended but also to her own practice, she founded ĀYU to teach the subtlety of a sustainable, technical and precise practice.
25 November – 11 December 2023