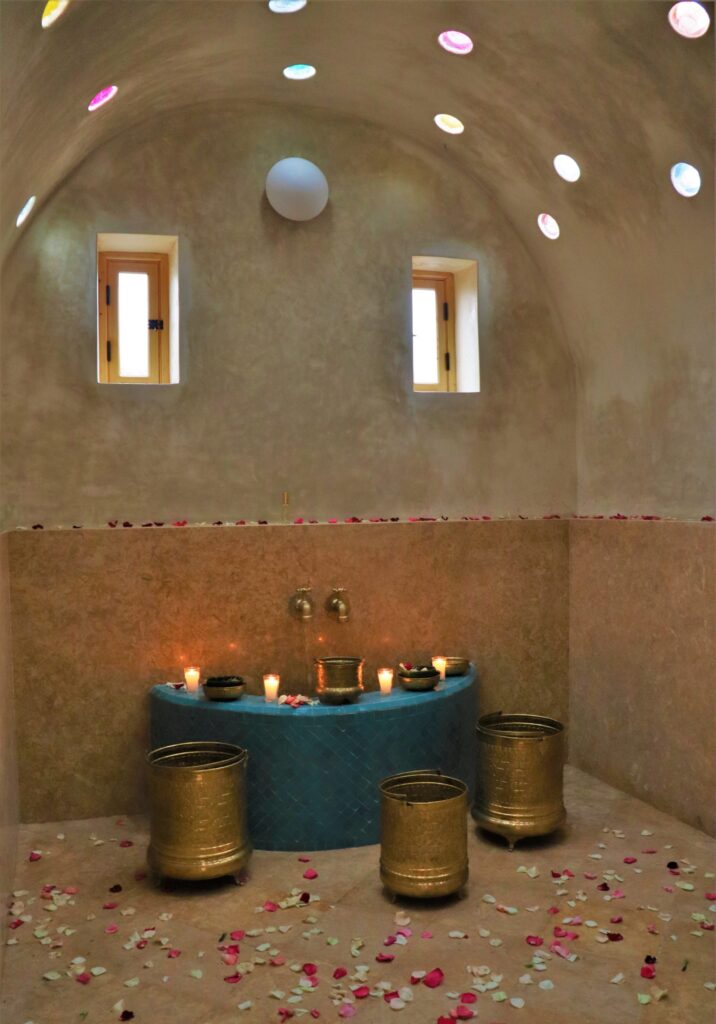 'A timeless space'.The Hammam is a real tradition in Morocco, a place of relaxation par excellence. It is an indispensable purification ritual in our rich culture.
Our Hammam vault invites you to bathe in an ancestral gentleness while the light of candles reflect in the glass roof incrustation. Built with noble materials, marble and tadellakt, this timeless space is a hymn to well-being. We offer our guests a 60-minute session including: soaping, scrubbing, body wrapping and oil moisturizing.
All products used in the Hammam are prepared in house with high quality natural ingredients and a touch of love:
Our beldi soap is made traditionally from locally sourced olive oil; it is then enhanced with eucalyptus essence and argan oil to provide a soft and creamy texture.
Our ghassoul comes from the Atlas clay and is mixed with medicinal plants from our garden, specially chosen for their nourishing benefits. The ghassoul is enriched with rose water and orange blossom for their virtues and subtle perfumes.
The flavoured oil is an argan oil macerated with rosemary and chamomile.
The Hammam session at Bab Zouina begins with a complete soaping of the body. Once the skin is soaked with the exfoliating and cleansing properties of the beldi soap, a delicate scrub with a kessa glove is performed. This process cleanses the skin from dead cells and stimulates blood circulation.
A ghassoul body wrap follows which deeply purifies softens and nourishes the skin with the therapeutic qualities from the plants. The hot water drawn from the fountain of the Hammam with beautiful copper buckets is regularly used to sprinkle and clean oneself. A pleasant hydration with aromatic oil concludes this Hammam experience of vitality and softness.
Reservations are made on site. To allow time to heat the Hammam, please advise us 6 hours in advance.