Yoga is a science devoted to the health of the body and to the peace, strength and clarity of the mind. Good digestion, deep sleep, vitality and enthusiasm, the correct functioning of internal organs, flexibility and muscles toned, a feeling of joy and ease are some of the benefits acquired by the regular practice of yoga.
B.K.S. Iyengar is today one of the most famous yoga masters in India and around the world. Born in 1918 in the South of India, he devoted his life since his teens to the study and teaching of yoga. He lived in Pune where he founded the famous Ramamani Iyengar Memorial Yoga Institute (RMYI). His books have been translated into many languages and have become classical reference works. His scientific approach contributed significantly to the "demystification" of yoga.
Contrary to the widespread view that yoga is a method of soft relaxation gymnastics, Iyengar Yoga is an intensive training that involves the body as well as the mind. It is based on the extensive practice of Asanas (yoga postures) and of Pranayama (yogic breathing).
Asanas develop strength, flexibility and body awareness. They especially relieve back pain, help the proper functioning of all organs, improve digestion and blood circulation. The postures also provide great relaxation.
They help to get rid of stress and fatigue, thus creating the conditions for excellent relaxation. 
Difficult situations can be better addressed. They help inner calm and serenity to take root in one's soul. Pranayama is the art of extending and controlling the breath. It increases vitality, brings balance to the mind and improves concentration.
According to the philosophy of yoga, the human being consists of the body, soul and spirit. The always serene spirit is the eternal part that resides in every man. The Asanas and Pranayama are the two fundamental pillars of yoga, to bring the body and the soul into contact with the light of the spirit and find inner peace.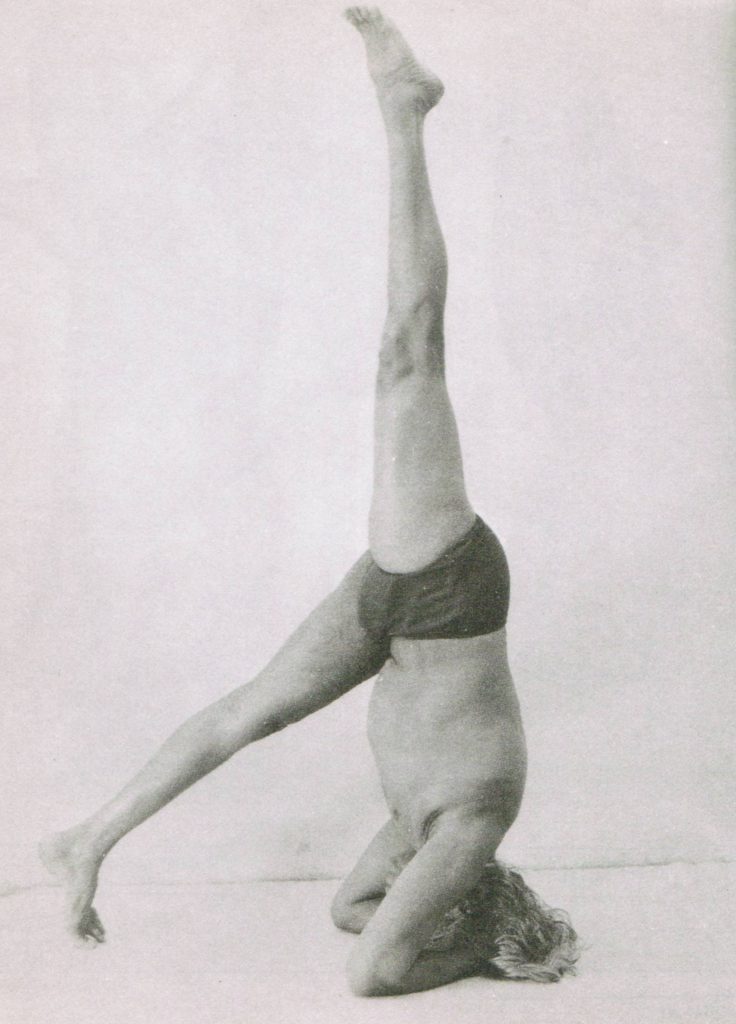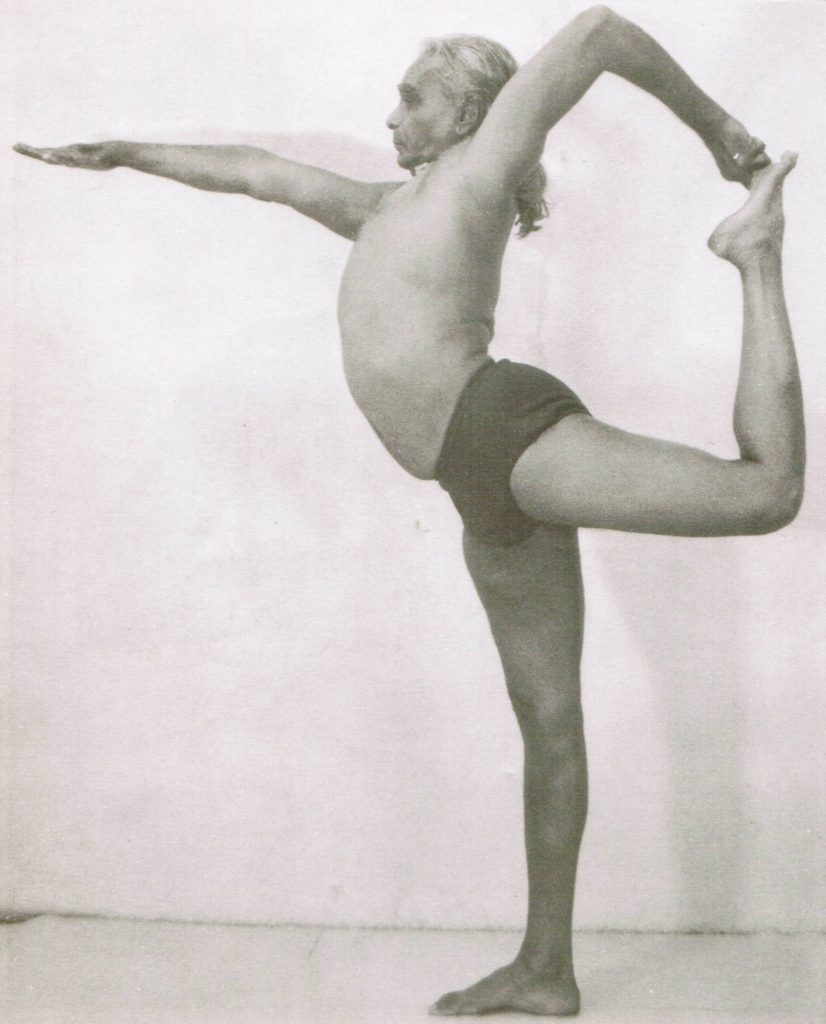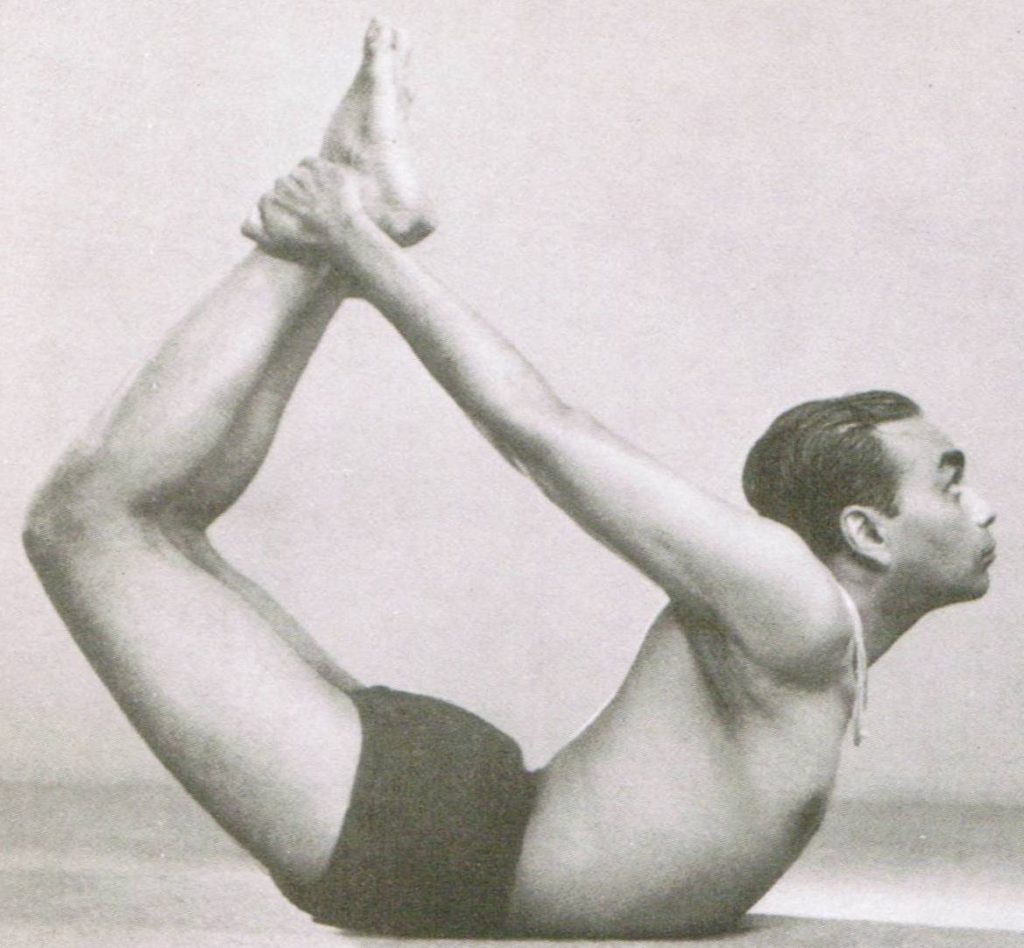 Closing of 200h YTT
Salma El-Fattah
Yoga Iyengar
Monica Bejarano Cortes
Jivamukti & Mindfulness
Conor & Marc

4 September - 2 October 2022
26 Sept. - 2 October 2022
Jivamukti Yoga
Klara & Conor

Yoga & Mindfulness
Stefanie & Bruno Amrein
Yoga

Iyengar
Eve & Guillaume

Yoga Iyengar
Karl Strahlke

Yoga Iyengar
Eyal Shifroni
Yoga Iyengar
Karl Strahlke

Yoga Iyengar
Karl Strahlke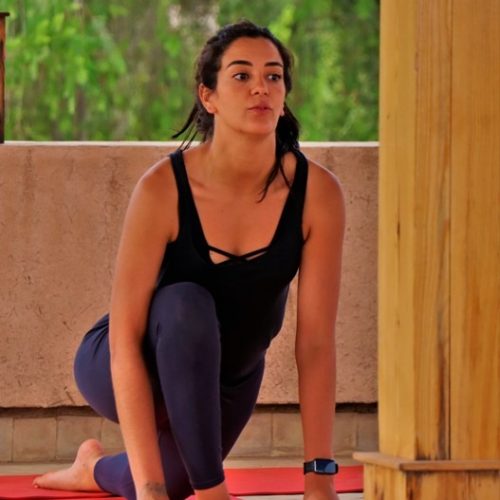 Ahlam is a certified Yoga Alliance teacher. She started her yoga adventure in 2010 as a practitioner of Hot Yoga. Five years later she discovered and integrated other styles of yoga such as Yin Yoga, Hatha Yoga, Vinyasa flow, Aerial Yoga and Ashtanga into her practice.
Yoga is a philosophy of life that she wanted to transmit to others. She then decided to travel to Nepal, between India and Tibet at the foot of the Himalayas to follow a Yoga Teacher Training 200H. She came back transformed and enriched.
Today and since 2019, Ahlam teaches different forms of Yoga, traveling throughout Morocco whether on the beaches of Essaouira or the dunes of Dakhla, in studios in Casablanca, the forests of Benslimane or retreat centers like Bab Zouina or Mellow Beach House.
Translated with www.DeepL.com/Translator (free version)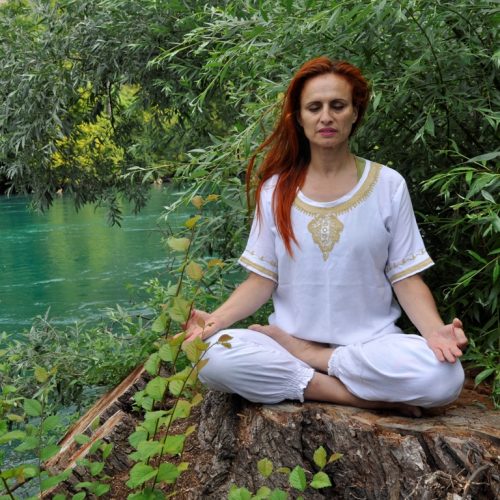 Choreographer, dancer, actress and teacher of dance and Yoga (Certified 500 Hours Hatha Yoga and 200 hours Ashtanga Yoga) – Certified laughter yoga instructor
After a career as an elite sportswoman on the Moroccan National Athletics Team (Sprinteuse), she embarked on classical, traditional and Sufi dances from the Maghreb in the Middle East. She later specialized in tribal dances in Morocco for which she gave lectures on dance, costumes and music.
In 2001, she began training as an actress at the Conservatoire de Genève and at the Cours Florent in Paris, while following courses with different teachers on improvisation, performance, mime and voice break.
Also followed for 7 years singing lessons with private teachers and at the Geneva Conservatory while also being part of a choir of classical singing for 3 years.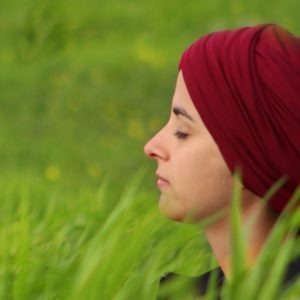 Aisha discovers yoga in 2007, since this practice has haunted her mind. After a regular practice in parallel with her studies, she realizes that she is more and more interested in Yoga & spirituality so she decided to devote herself fully to her passion and begins her first Natha Yoga training, a teaching in the tradition of Nathas Yogis of Kashmir. She leaves for a second training in openness and diversity with Samasti Yoga School in Bali to learn the teaching of Yin, Hatha and Vinyasa. Aisha currently teaches at various yoga studios in Casablanca she is also known for organizing wellness days that combine yoga, meditation and hiking in nature.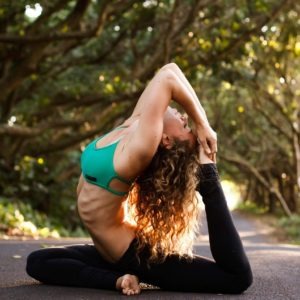 She is a Yoga Alliance Registered 500hr yoga teacher. More than that, she is a lifelong yoga devotee. Her grandmother, her guardian angel, taught her headstand at the age of 8. In high school, she started a yoga club. In college, she took yoga as gym class and explored different studios and styles all around New York City. From there she trained with Seane Corn and Hala Khouri, where she learned about yoga as a vehicle for healing and connecting.
Inspired, she sought to learn more about yoga therapy, and she found her teacher, Liz Heffernan and the Soma Yoga Institute in Hawaii, where she did my 200 hour teacher training in 2014. She began teaching and continued to develop her practice in Morocco and abroad. In 2018 she completed her 500 hours of training in Rishikesh, India, integrating new learning on yoga philosophy, meditation, yin, and pranayama.
She has practiced yoga in over 12 countries, with countless different teachers and students. Her continued practice is essential to her teaching as she is always evolving towards her true self. It is a daily practice that incorporates much more than the physical. And she hopes to share it with you.
Outside of yoga, she has a BA from Columbia University in New York in Middle East and North African Studies and Political Science and a MSc from the London School of Economics in Development Management. She currently works on projects related to economic development in the Middle East and North Africa. She loves to cook vegetarian (and mostly vegan) food, to swim in the ocean, and play her harmonium.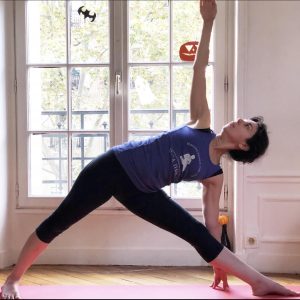 Eve has been practicing yoga since 2000. In 2001, she left for six months to discover the great schools of yoga in India (Sivananda, Ashtanga…). The discovery of the Iyengar method, precise and rigorous, was a "revelation" for her. On her return to Paris, she continued to study Iyengar yoga with Faeq and Corine Biria, close disciples of B.K.S. Iyengar.
In 2010 she decides to give a central place to yoga in her life by starting to teach. She joined the teacher training program led by Srisharan Faeq Biria and obtained her certificate in 2013. In 2016, she joined Corine Biria's advanced post-training which she followed for 3 years. She gradually abandons her career in the film industry to dedicate herself excusively to her passion for the study and teaching of yoga. Eve continues to train with great teachers, including Faeq and Corine Biria (whom she currently assists in the therapeutic course at the Centre Victor Hugo, after having been an assistant in the Pregnant Women's course for 2 years).
Eve teaches group classes in the 18th district of Paris as well as in several yoga centers in Paris; in companies; and in private classes.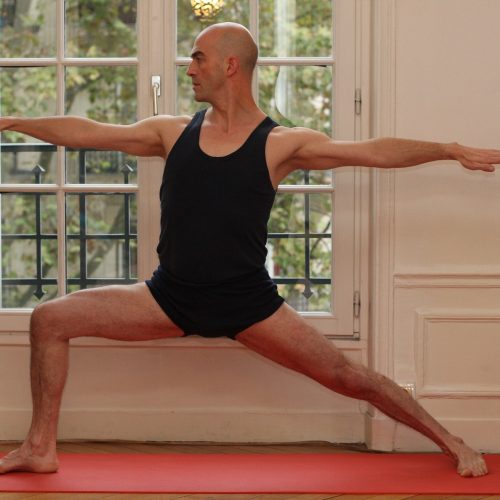 Guillaume discovered yoga in 1993, which he initially practiced as a complement to martial arts. In 1999, he followed the Sivananda teacher training in South India, and then studied Ashtanga Vinyasa Yoga in Mysore. In 2001, he returned to India to continue his training. In Rishikesh, he discovered Iyengar Yoga with Rudra, which he continued to study upon his return to Europe with Faeq and Corine Biria. In 2002, he decided to abandon his career as an archaeologist to dedicate himself exclusively to teaching yoga. In 2005, he also trained in Yoga Nidra with Micheline Flak (disciple of Swami Satyananda). In 2010, he decided to specialize in Iyengar yoga and followed the teacher training course led by Sricharan Faeq Biria for 3 years. In 2016, he joined Corine Biria's advanced post-training which he followed for 3 years. He continues to study with great senior teachers and assists Corine Biria in the therapeutic course at the Centre Victor Hugo (after having been an assistant in the Pregnant Women course for 2 years).
Guillaume teaches in Paris (18th), at the Entente Sportive de Nanterre, and at the courts of Nanterre and Pontoise.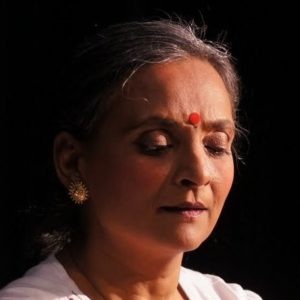 Disciple and yoga teacher at the ashram of BKS Iyengar, naturopath and dancer, Gauri lives, teaches and practices in Pune, India. Gauri comes from a Gandhian family renowned in the practice of Ayurvedic yoga. She has extensive experience in therapeutic yoga and uses it to treat specific physical conditions. As a naturopath, she also practices Thai massage she learned in Bangkok, combining the therapeutic virtues of Indian and Thai methods. As a dancer, Gauri has been practicing Mohini Attam since childhood, one of the eight forms of Indian classical dance from Kerala. In Indian mythology, this enchanting dance is performed by Lord Vishnu to save the God Shiva from the demon Bhasmasura.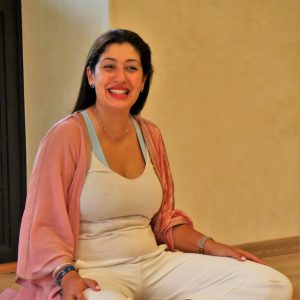 Imane holds a doctorate in Biochemistry. She started her professional career as a teacher in an engineering school and then worked in development projects in Moroccan NGOs as well as in an international agency for sustainable development. Today, she is an international consultant.
She discovered Yoga in 2014 and it impacted her daily life. She decided to do a yoga instructor training to discover the whole philosophy of this art of living. In 2018, she started teaching Yoga in Rabat in several centers. In 2019, she invites her teachers to train yoga instructors in Rabat.
In 2020, to support her community during lockdown, she launched the Morning Yoga Challenge online where over 500 people practiced yoga with her for 4 months. She also co-facilitated with her partners different workshops and meetings around the philosophy of Yoga, spirituality and well-being.
In October 2020, she created and opened a yoga space in Rabat with the first trained yoga instructors in Rabat.
In August 2021, she founded the Noor institute for the accompaniment and training of several Yoga practices, Meditation, Reiki and other holistic disciplines.
Yog'Imane is also a Reiki Master and a coach in personal and spiritual development and accompanies people to transform their lives. Her ikigai is to accompany her community to discover their full potential to shine and illuminate the World.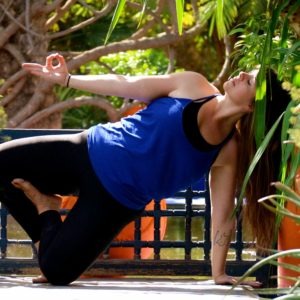 Originally from Austin, Texas, Jade started her yoga journey at the age of 18 when she stepped into her first hatha class at her university. After pursuing a career in culinary arts and tourism, she attended her first teacher training at the age of 30, earning 200 hours in traditional hatha yoga. One year later, she followed her teacher to India, where she later earned her 300 hour training in vinyasa and therapeutic yoga. Jade's biggest passion within the yoga community is teaching "relatable" yoga – bringing the heath and awareness aspects of traditional yoga to the Western mindset. After moving to Morocco, Jade started Yalah Yoga, which is her personal yoga brand – bringing multistyle yoga instruction to tourists and locals in Morocco. As an addition to the brand, Jade works with local artisans to create yoga accessories made from Moroccan textiles. She can best describe her classes at "lighthearted" with an emphasis on fun, fluid movement and a childlike discovery of the self.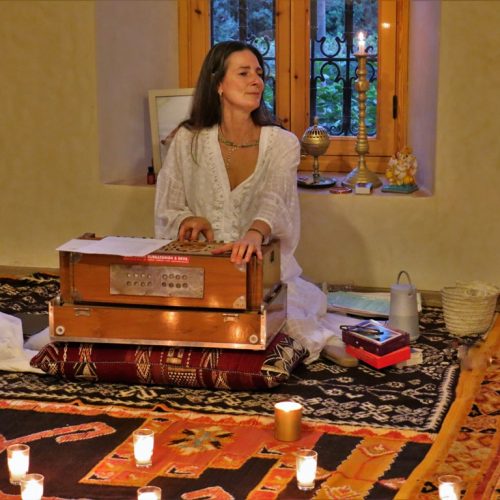 Founder of the "Damanjot Yoga Center", the first Kundalini Yoga and meditation center in Morocco (Casablanca) created in 2012.
A true passionate person, Johanna introduced the vegan philosophy in Morocco by creating the Vegan Café in 2015; a living space, café and restaurant 100% Vegan and organic, in a spirit of exchange and sharing with anyone seeking a healthy lifestyle, both for the mind and body.
She discovered kundalini yoga according to the teachings of yogi Bhajan during a spiritual retreat in the world capital of yoga "Rishikesh" in India in 2010 and obtained her certification in Paris.
She organizes spiritual retreats in Morocco, always accompanied by her harmonium when she sings the sacred texts.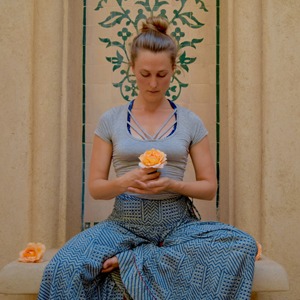 Kamadevi is a certified Hatha Yoga teacher with 12 years teaching experience. She is a Reiki and Intuitive Massage therapist well-versed in Vipassana meditation. Her practice focuses on Kriya Yoga, Kundalini and Tantra as well as methods of bodywork and ecstatic dance. Her creative nature complements her artistic skills (Visual Arts degree at the HEAD Geneva).
She regularly provides workshops and retreats in Switzerland, Middle East, India and Africa. Having previously implemented a Holistic Lifestyle Program at The 5-star Fusion Resort in Vietnam, Kamadevi has a well-versed approach, is open-minded and free-spirited. Her travels and consideration to cultural differences have enabled her to work accordingly within varied contexts, individually and with groups.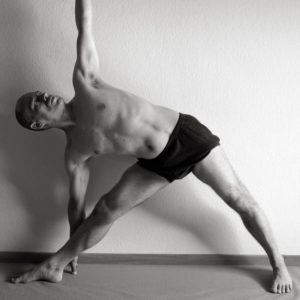 His first contact with yoga (Sivananda) was in 1987. From the year 2001, he started taking classes and several yoga courses, and in 2003 he found Iyengar yoga. Since Karl practices this method, which he graduated, and has also acquired all certificates FSEA (Swiss Federation for Continuing Education) to obtain the Federal Diploma of Adult Trainer. He teaches Iyengar yoga in Lausanne and regularly gives yoga workshops.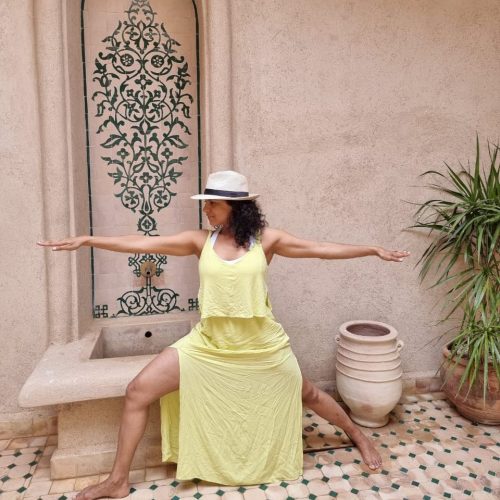 How do you introduce yourself to others when you are multiple? I would say that I embody the "artist" who is passionate about people and the magic of creation. For 15 years, I have navigated between a career as a business engineer and my passion as an international dancer-choreographer. Ten years ago, following a burnout that echoed with the call to the sources of mother earth, the change was obvious to guide me towards my voice of transformation.
I trained in body-psychology and energy therapies, art-dance therapy and yoga. An integration lived in each of my cells that testify to my life mission as a holistic therapist in order to humbly accompany any person in search of wellness and physical and emotional psychic balance.
I transmit through master classes, team building and retreats that I design according to my inspirations. I call them cosmic "rendez-vous" that bring together beings whose soul has chosen to live the in-perience in the ex-perience to let all the beauty of our humanity emerge and to restore the "social cord" with delicacy and benevolence and to co-create together emotions that make us vibrate and remind us of the magic of life!
I accompany many students on a daily basis, through my individual classes, group classes, workshops and retreats. I attach great importance to the preservation of the body's integrity and the prevention of injuries. My knowledge of anatomy allows me to adjust each posture to the specificities of each person's body, to his or her current possibilities but also to his or her objectives.
My practice has as its main intentions benevolence, gratitude, compassion and self-love, combining rigor and elegance with gaiety and letting go. Perpetually inviting students to connect their bodies and minds, seeking and respecting their limits. 
I am convinced that yoga is a whole, a development of oneself in all areas of life, a beautiful way to realize oneself.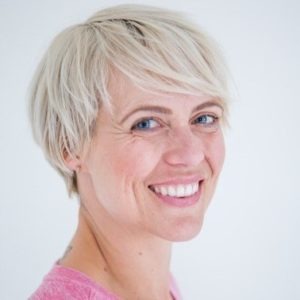 Siri has been practicing yoga for over 15 years and has been teaching for more than a decade. She is a senior teacher at the Satya Yoga Institute and runs yoga schools in Stavanger and Sandnes, Norway. She is a certified Level 3 teacher from Patanjali Yoga Switzerland. Under the direction of Ali Dashti and Kate Beck, she also oversees the 2 years yoga teacher training Patanjali in Stavanger.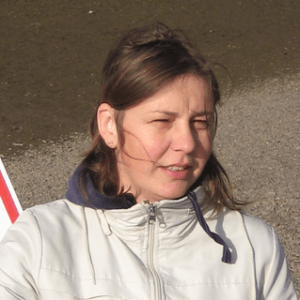 Sigrid studied philosophy, German literature and political science and practiced drama in dance. She has been practicing yoga since 2002 and started teaching it five years later. In 2013, Sigrid fully dedicated herself to teaching yoga and then focused on dynamic Hatha Yoga: it is not so much about contortions or awesome postures, but rather knowing your body and finding a place for yourself, balance and inner peace. Her approach to yoga is sometimes relaxing, sometimes stimulating, but always an adventure in itself. She sees yoga as a wonderful link between the spiritual and the physical that allows everyone to find their balance and contribute to overall harmony.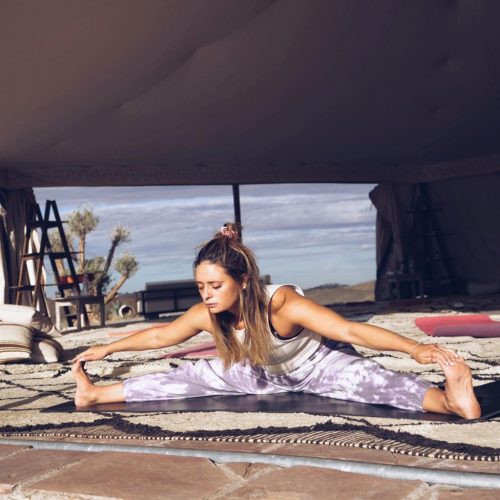 Susan Maria Slaoui is a holistic nutritionist with a passion for all things mind body and soul – and food too, of course! Having completed 500hrs of yoga teacher trainings in: Tantra, Vinyasa, Yin and Hatha, she's most certainly certified and widely wise. This library of knowledge is something Susan wishes to share with the rest of the world, through teaching. By joining her classes, you gain access to gracious guidance on how to lead a healthy, happy and heartfelt life. Namaste!
Registration and cancellation policy
Registration and cancellation policy
Registration is confirmed after payment of deposit. In case of cancelation by the participant, the down payment will not be reimbursed. For any cancellation by the participant, the following conditions apply:
Less than 30 days before the workshop: 70% of the registration fees are due
Less than 7 days before the workshop: 100% of the registration fees are due
In this respect, participants are strongly encouraged to contract their own travel cancellation insurance.
Bab Zouina cannot be held responsible of any damage or accident incurred by participants. Each participant will be in charge of all his insurance (travel, accident, liability, etc.) for the whole duration of the stay and for all activities.