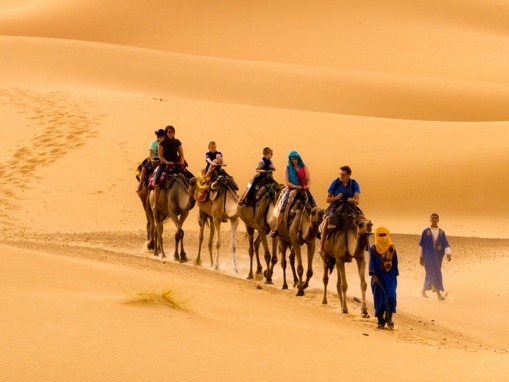 Discover the Moroccan treasures via our tours, whether to embrace the mountains of the High Atlas, or the green hills of the Ourika Valley, to camp in the Sahara Desert and contemplate its ever-starry sky, or to visit the ancient and historical landscapes of Morocco and immerse yourselves in ancestral and local customs.
The circuits have been designed for you to discover pleasantly the many facets of the vast Moroccan landscape with colors and aspects that do not cease to vary according to the seasons. Regular stops and halts will provide you with enough time to rest as well as discover authentic customs in a spirit of sharing and respect of traditions.
Our must-see tours take you to southern Morocco at the gateway of the Sahara desert be it among camels and nomads in the dunes of Chegaga or Fum Zgit, or surrounded by the sumptuous Dades Gorge, or by the unique and spectacular UNESCO World Heritage site, Ait Ben Haddou.

Cultural heritage, ancient treasures, local customs and traditional villages in the middle of a magnificent nature, there is something for everyone! Epic crossing of Morocco guaranteed with multiple faces and landscapes…
The costs of the tours vary according to the number of people registered and according to the season. Please consult us for rates.
Ait Ben Haddou – Chegaga Dunes
Ait Ben Haddou – Dunes of Fum Zgid
Ait Ben Haddou – Gorges of Dades – Dunes of Fum Zgid
Ait Ben Haddou – Oasis of Fint
Taliouine – Oasis of Fint – Ait Ben Haddou
Duration to be determined
You would like a customized tour ?